With the shelter in place orders this year, we have all been spending a lot of time at home. After looking at the same 4 walls for weeks, some of us have realised that there are spaces in our home that are in dire need of an update. Now is the time to start planning your project, even if a major redesign isn't on the calendar (or in the budget) for you this year. Are you fevering for interior updates, but you don't know where to start? Don't sweat it! We've compiled a list of the top 2020 interior design trends to help you reinvigorate lackluster spaces.
The New Neutrals
True neutrals – think whites, beiges and shades of gray – will always be a modest staple in design. They have withstood the test of time through centuries. But the new neutrals are bold, maybe even a bit ostentatious in a good, good way. Experts agree that colors are navigating toward saturated, earthy palettes. According to Stacy Garcia, color guru and trend forecaster, "The color palettes we've been responding to are both grounding and centering, and driven by the need to escape overstimulation. Wellness as an ongoing, overarching trend has majorly impacted what we surround ourselves with including color." Blue mid-tones, navy, clay and emerald green are taking center stage. Walls and larger pieces of furniture wrapped in these hues serve as a neutral base around which to flesh out a room's design and color scheme. Ochre and golden yellows, softer corals, and minty greens enrich and add depth to the color story.
Tactile Selection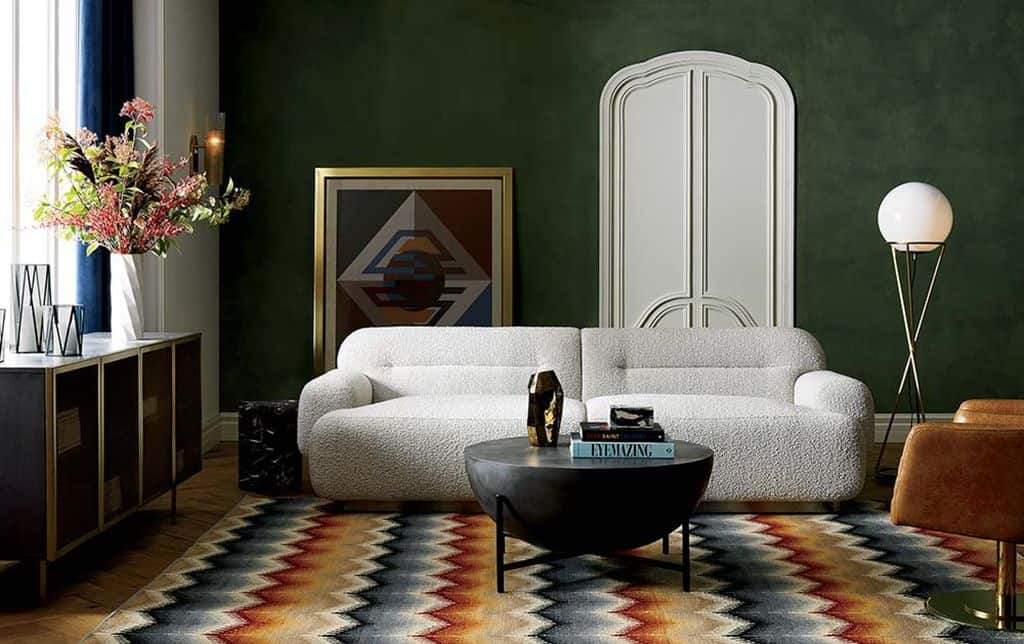 Image via CB2
The theme of comfort and escape extends itself into emerging textile trends. The cocooning effects of velvets in rich, solid colors aren't going anywhere this season. Raw weaves and nubby, textural fabrics like Sherpa and boucle have made a major resurgence in interiors. The best use of these curly weaves seems to be in solid colors and on modern, streamlined architectural pieces.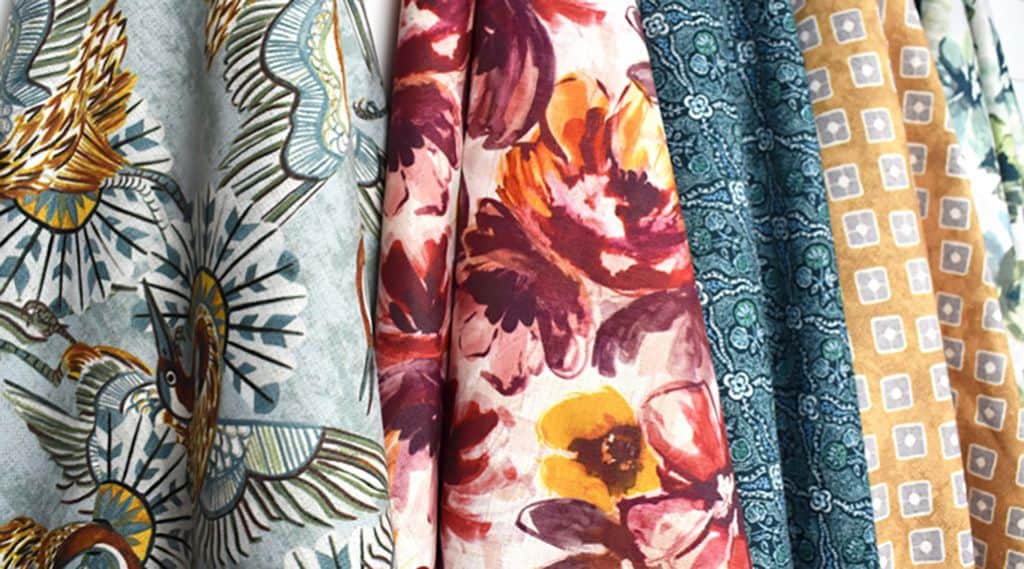 Image via Crypton
Prints reflecting the natural world are making a statement across the fabric design industry. Abstract motifs, pastoral scenes, moody botanicals, and stylized flora and fauna bring a modern edge to traditional applications.
Natural Accents
In 2019, rattan and cane were suddenly everywhere. In big box stores to luxury retailers alike, cane was having its moment. The timeless material resurfaced with a more modern flair than we've seen in decades past.  Accent chairs, tables and credenza, dressers, headboards – you name it – can still be found flaunting the material in 2020.Even lighting is navigating toward the use of natural materials. Organic forms with metal or wood bases, the imperfect irregularity of hand blown glass, and rattan or bamboo pendants still command a big presence in the market.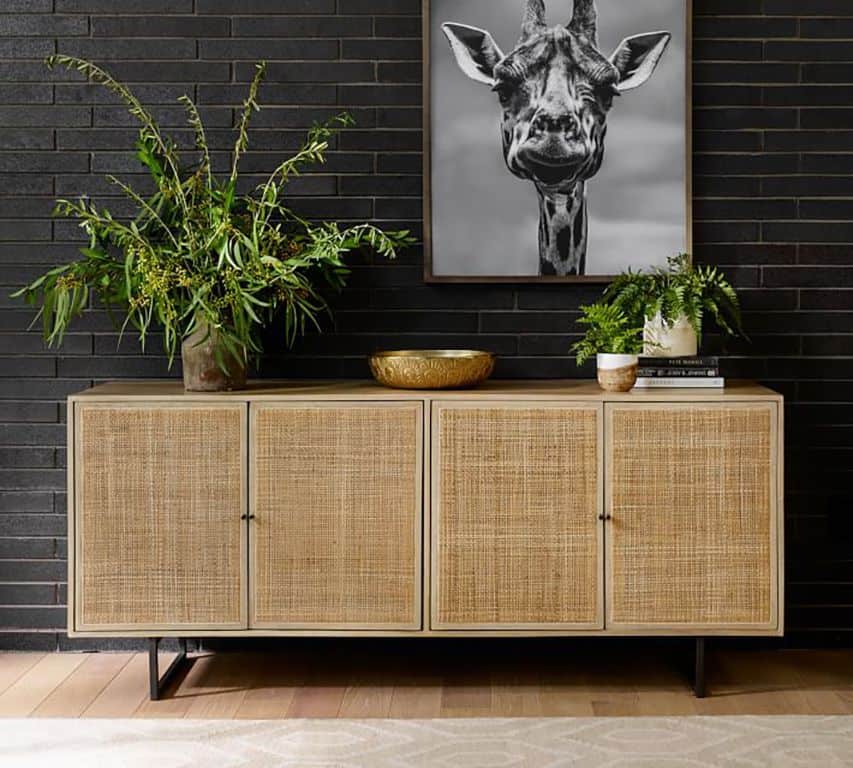 Image via Pottery Barn
Cutting Corners
Softened silhouettes are back on the trend scene this year. The curved form is making comeback in upholstered furniture like accent chairs and the curved sofa, reminiscent of the iconic styles of the 60s and 80s.  In lieu of introducing the trend into your home on expensive investment pieces,  capsule-shaped accent furniture and décor are affordable alternatives.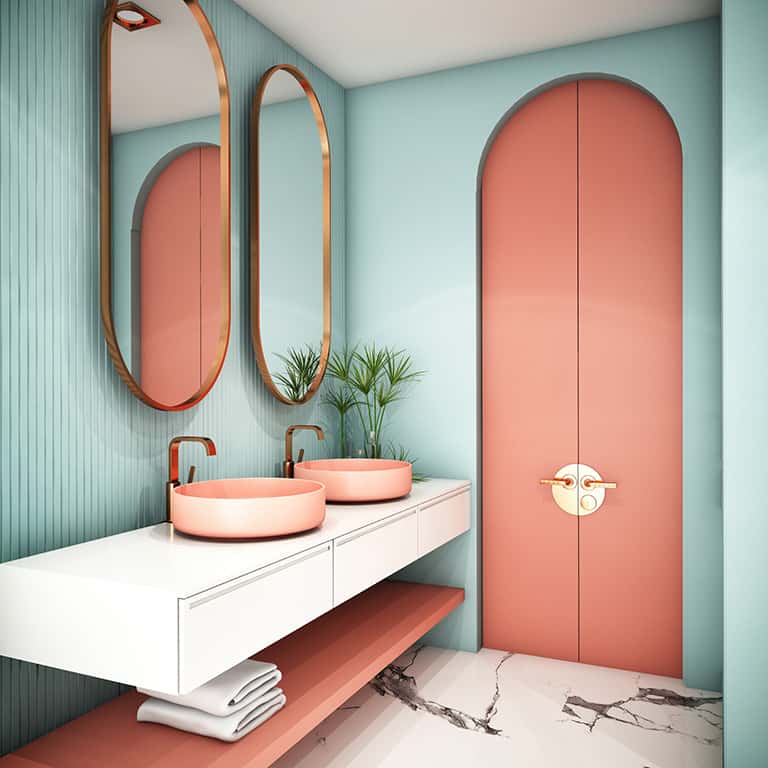 Arches, although trending at the moment, is classic, timeless and modern all at once. The soft architectural detail adds contrast and breaks the monotony of angles in modern interiors. But don't think structural changes like doors, windows, hallways and niches are the only way to introduce this shape into your décor. Give it a try with an oversized, arched wall mirror for a major statement.
Express Yourself
No two 2020 interior design trends lists are the same – not ever. But from expert to expert, from publication to publication, the themes of authenticity and individuality consistently made the list of top design trends for the new decade. Whether renovating a whole home or refreshing a single room, consumers are investing for the long term and being ecologically responsible by purchasing what they love.Design will always be about what makes you comfortable and happy in your very own space, about how you choose to tell reflect your personality and tell your story within walls. We are here to facilitate that narrative for you, never to define it!