It's the second week of December, a little over two weeks until Christmas, and I'm making the final touches on my very own holiday décor. The halls have been decked, the tree trimmed and in order to share this festive spirit with my neighbors and arriving guests, I tackled the curb appeal last week – beginning with a brand new, merry and modern holiday wreath for the front door.
Now, of course I could have chosen a wreath from one of the big box stores because honestly, some of them have very good options. However, I wanted this one to be personal and reflective of my style preferences. But let's face the obvious – wreath making can be a pretty daunting task , no matter how clearly you see the vision in your head. So I commissioned Elisa Gabrielli, the award-winning and talented designer at Watkins Flowers of Distinction located in Lafayette Village in Raleigh, to bring my vision to fruition.
I have worked with the owners and designers at Watkins Flowers of Distinction on my personal projects and have recommended them to many of my clients. Their commitment to quality and customer satisfaction is second-to-none and their attention to detail is unmatched.
In consulting with Elisa prior to my appointment, I was advised to gather favorite or sentimental ornaments to bring with me. Once I arrived, we selected a very natural looking faux evergreen wreath that will surely keep its aesthetic from year to year.
We began with the bow. Elisa helped me narrow down to a simple color palette of black and white with touches of red. I chose two ribbons, one with a very graphic black and white pattern and the other solid black with refined texture, for a statement double bow effect. The bow was then affixed to the wreath and we began adding the supporting accent pieces.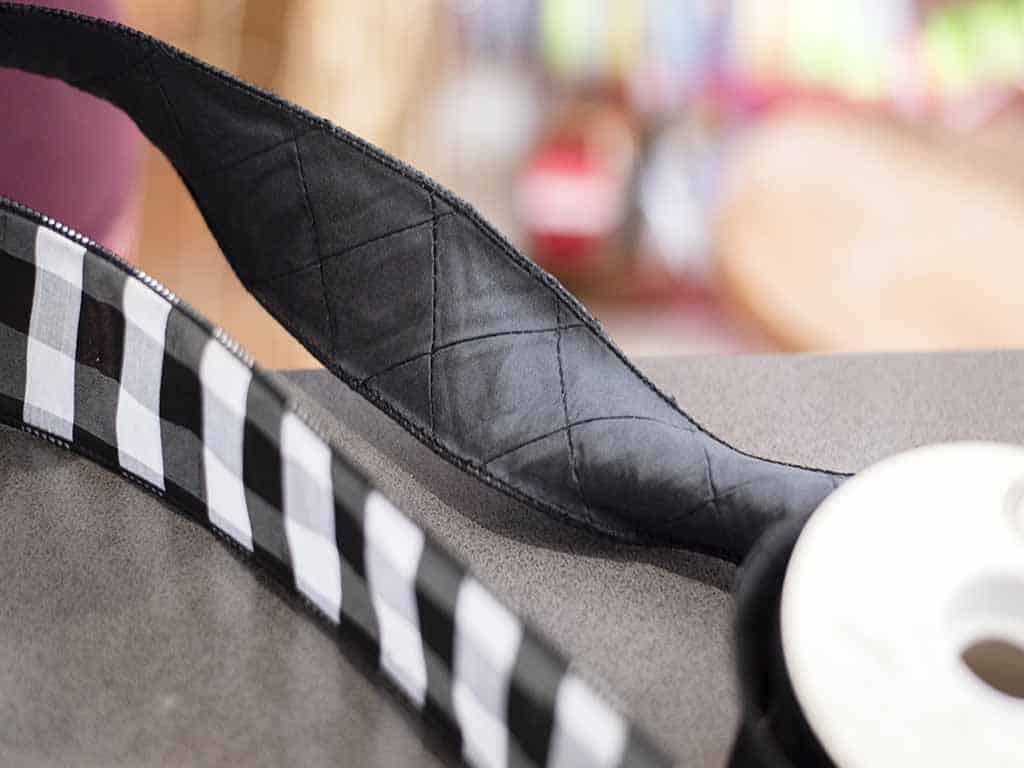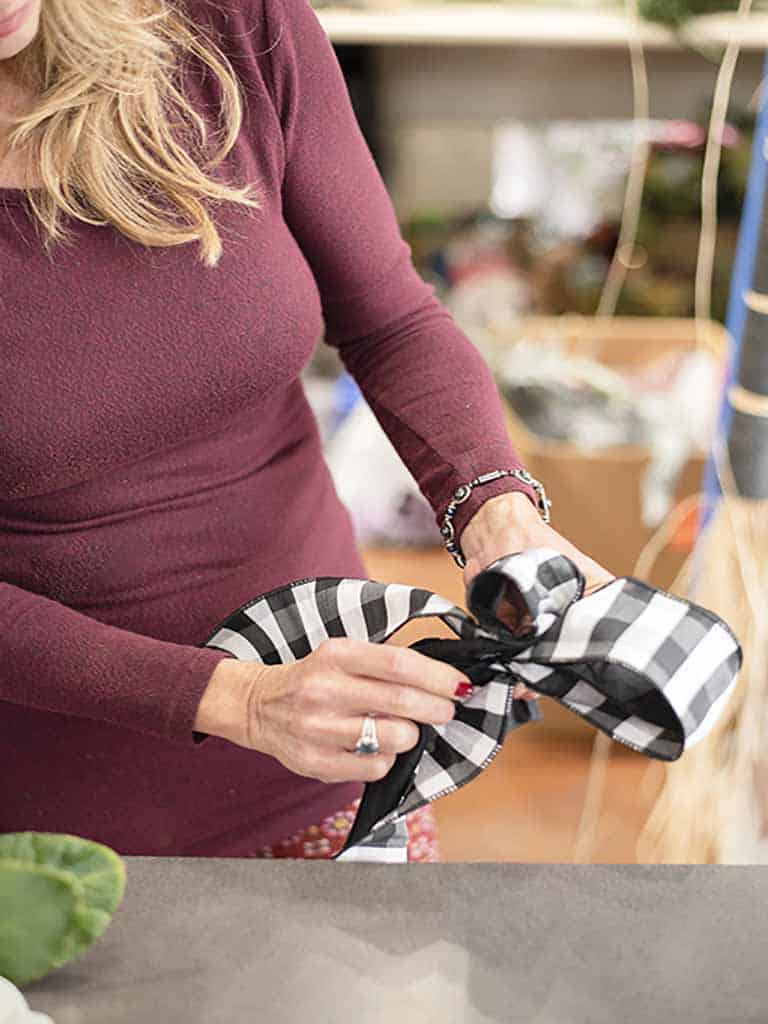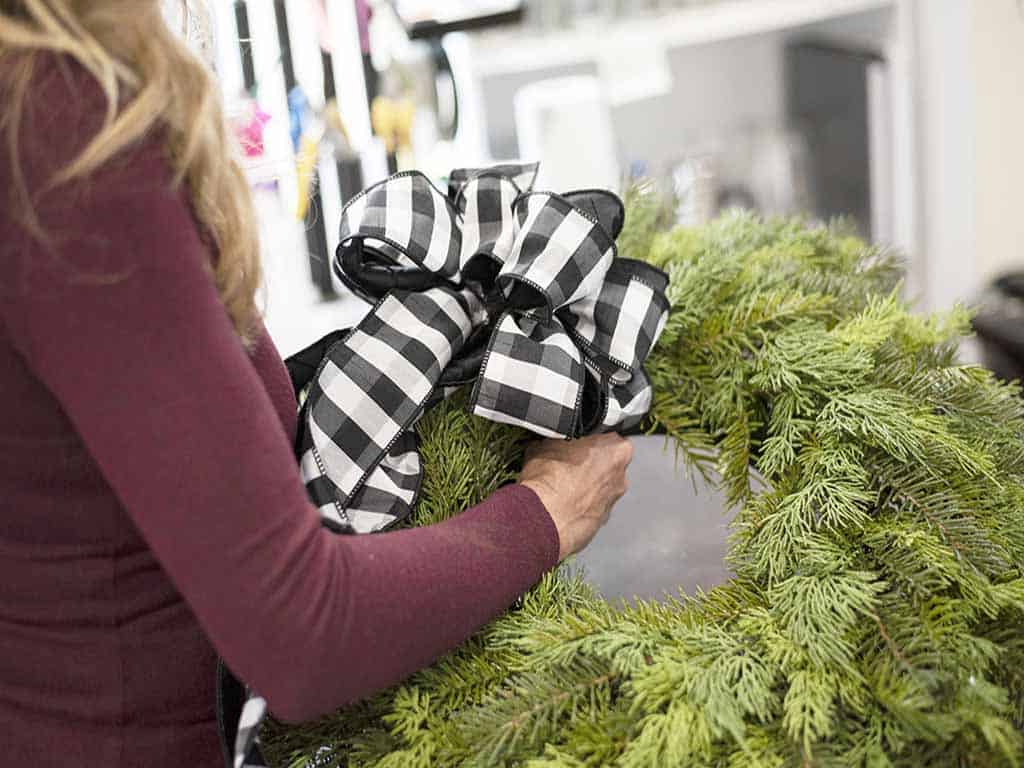 My black and white ornaments, red holly berries, a cardinal and magnolias (for a slightly southern touch) were chosen to complete the design. Elisa clipped, tucked and arranged the elements around the bow and along one quadrant of the wreath, asked my opinion of the layout often, gave me even better options (because that's why she's the pro!) and rearranged the ornaments until we reached dashing perfection.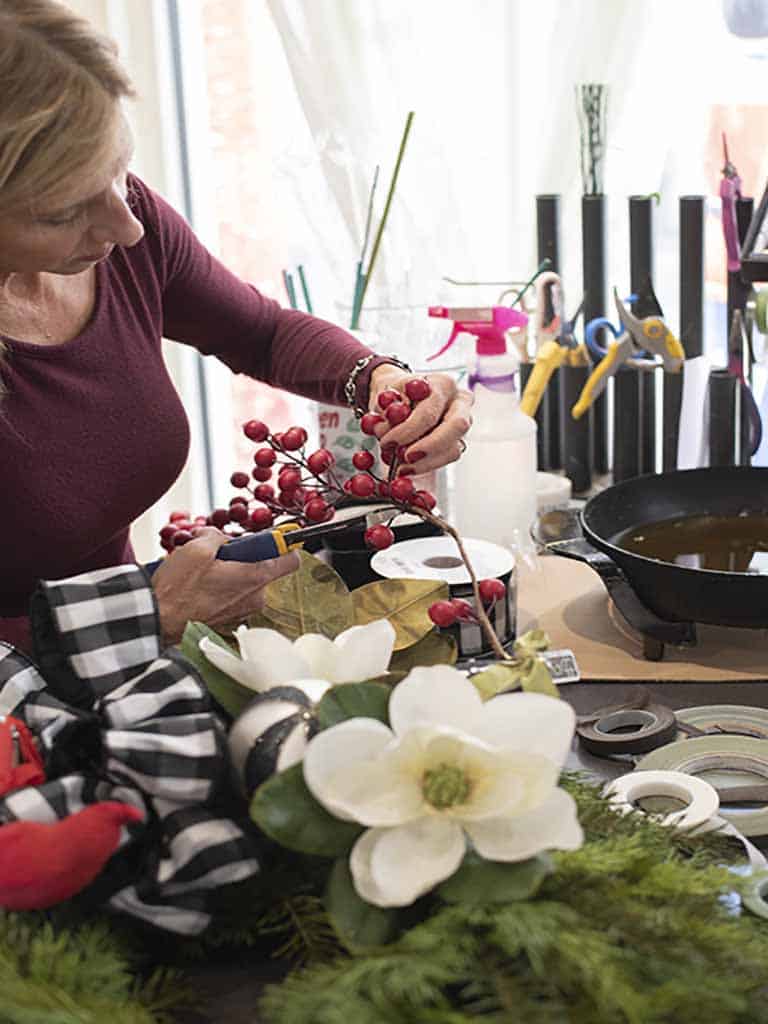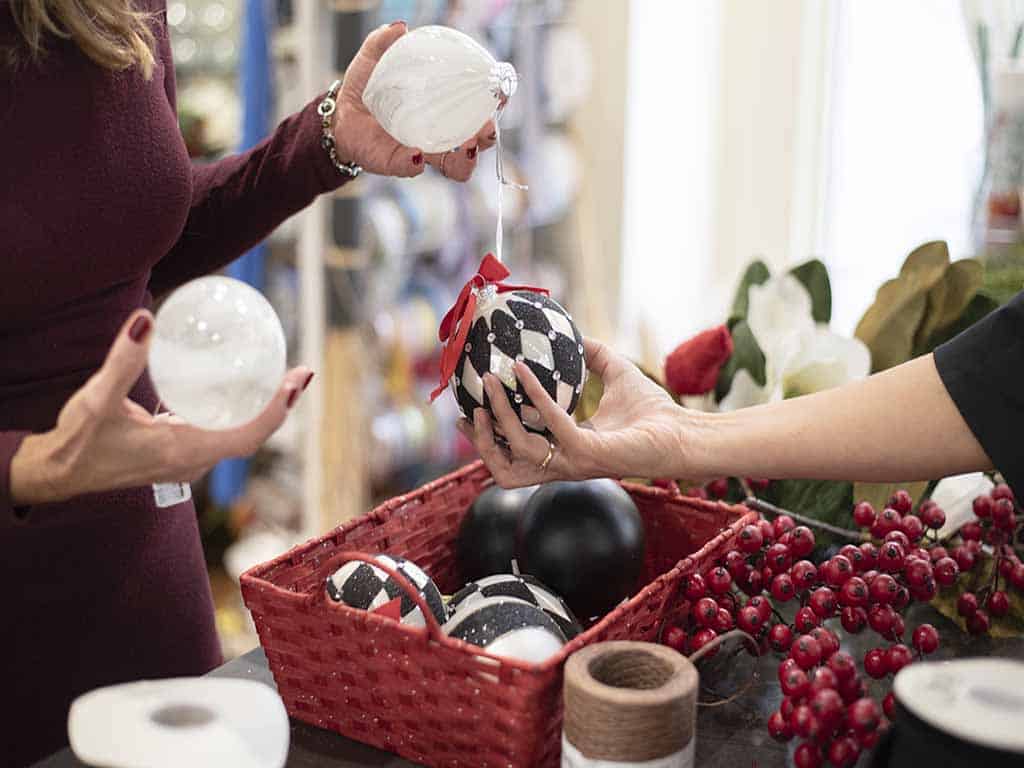 The process of permanently affixing the ornaments to the wreath was intriguing to watch as Elisa dipped into the skillet of molten glue and manned the floral stemming machine. I would have loved to have been more hands on in this step, but I was going for permanence and excellent craftsmanship, so I left it to the expert.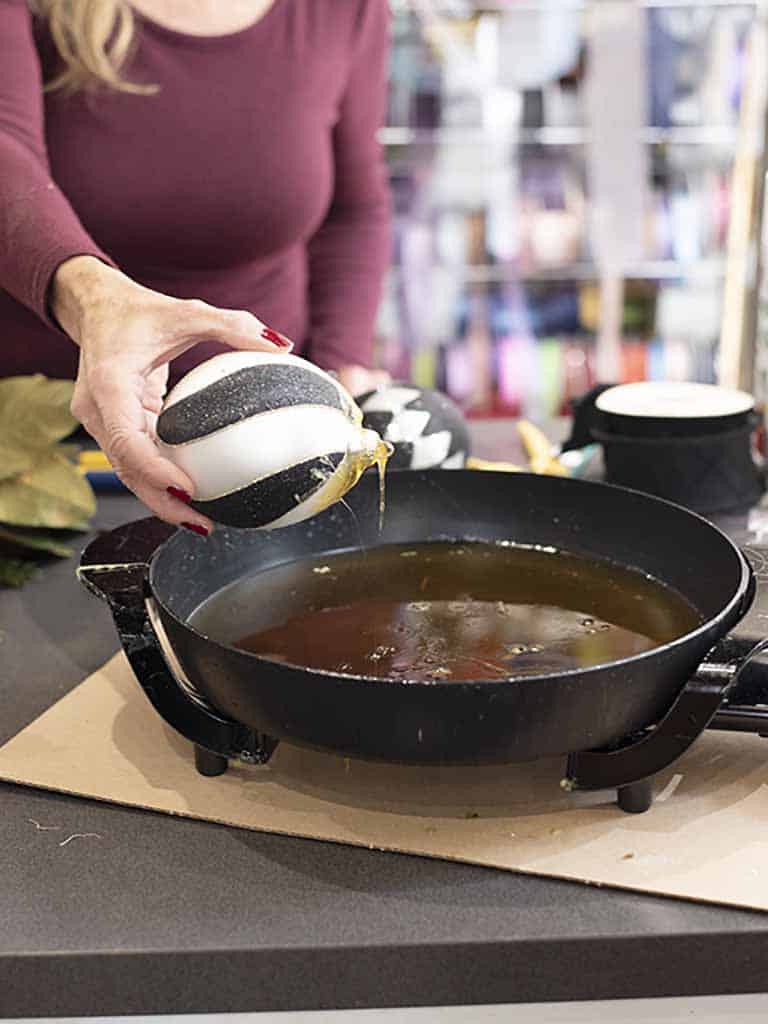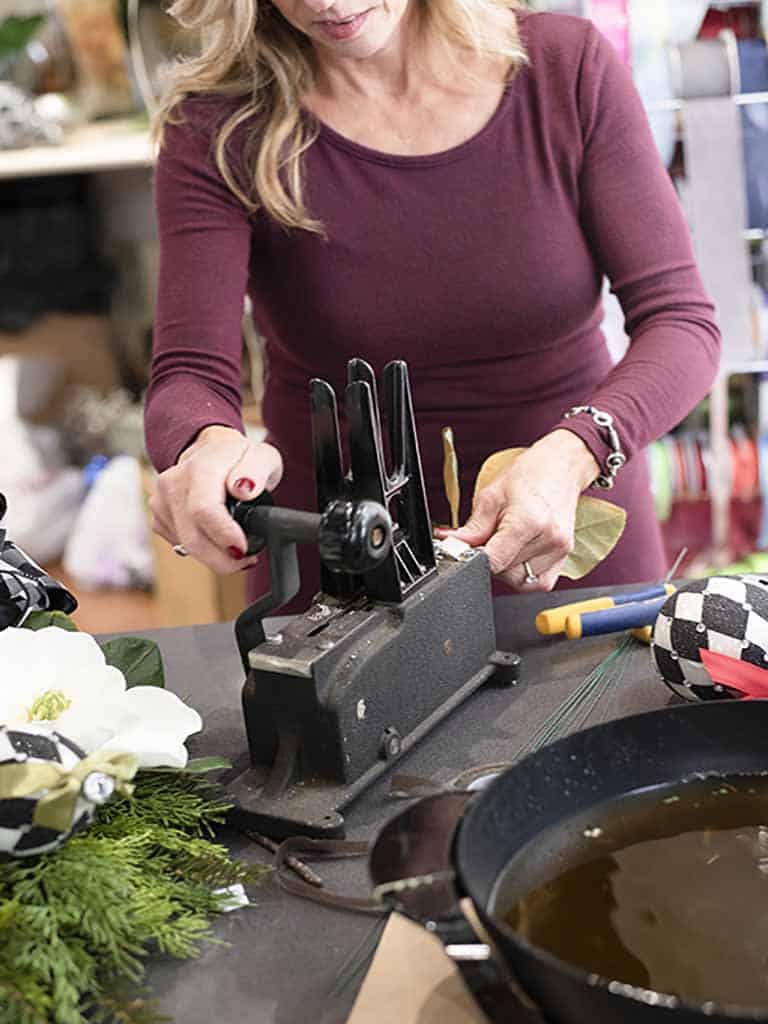 Once everything was attached, Elisa added a third black-and-white patterned ribbon by which to hang the wreath on my door.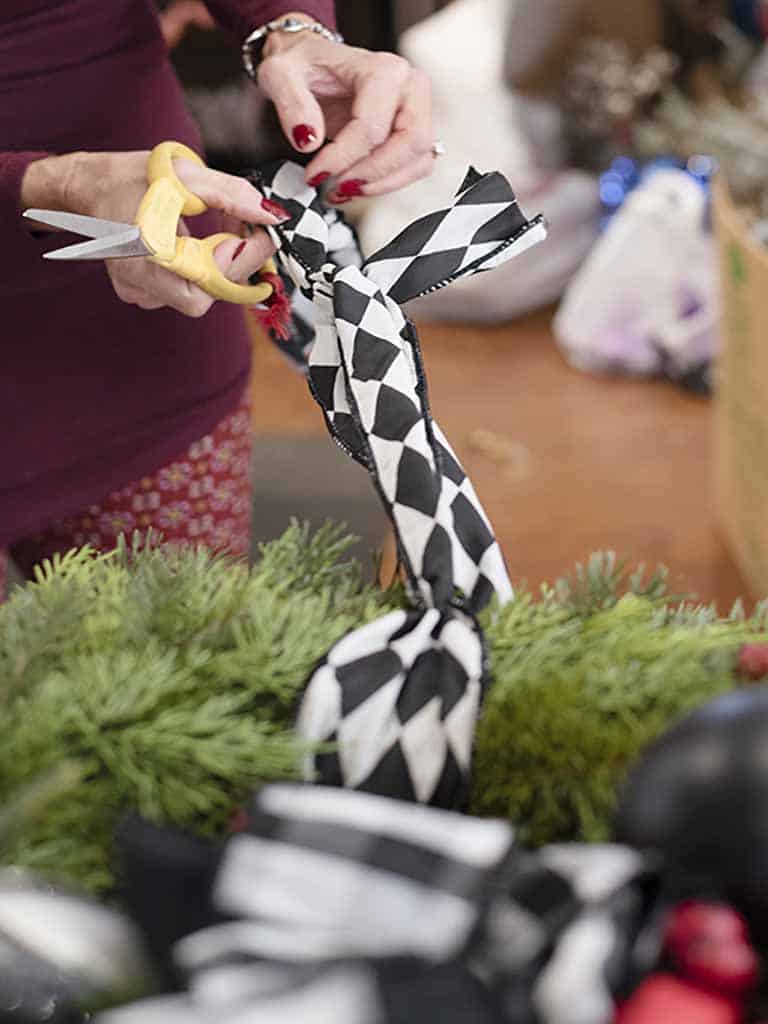 I made an investment on a custom wreath this year, had lots of laughs and good cheer in the process, and I now have a one-of-a-kind holiday wreath to last me for many Christmases to come. I love my modern, holiday wreath!